Let's talk Makeup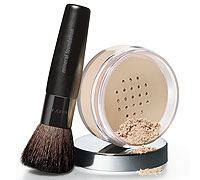 Today I am working from home and I absolutely love it! However, I think I like social interaction too much to do this full time. I am on my "lunch break" right now, so I thought I would post for the day.
Megan sent me a link to a blog today called
Make-Up Junkie
. The site gives makeup tips, tricks, steals and splurges. Since I am getting dangerously close to 30 and dangerously close to potential wrinkles my skin care has become quite a bit more important to me.
I am not that into makeup...I swear I have worn the same colors since age 12. (I have also had the same hairstyle since birth.) But, I wanted to share some of my faves with you.
For those who wear the same thing over and over and over again, I recommend trying
Mary Kay
. My mother-in-law sells it and I have falled in love with the mineral makeup. I wear the
mineral foundation powder
and I swear it takes away all of redness and discoloration. I also got a pressed version for my purse. I also recommend the
Mary Kay eye liner
and
mascara
. They are both really good.
I also wear Bobbi Brown blush and eye shadow but will probably switch to Mary Kay once I run out because they have comparable colors and are more affordable.
Another online makeup secret is
Eyes Lips Face
. Everything on the site is $1. So, if you don't like the color, you didn't spend a ton. And, shipping is only $2! What a steal!