Gift Baskets
My friend Stephanie asked me if I had any ideas for a gift to give her uncle for Christmas. She was thinking of a gift basket of sorts and wanted to see if I had any ideas.
First thing that came to my mind was a gift basket from the
St. Helena Olive Oil Company
that I visited while I was in
Napa
for Thanksgiving.
The shop was adorably cute.
The olive oil was fantastic.
And the tastings were so fun. (Think olive oil and
balsamic
vinaigrette to your heart's desire. Not to mention the local honey, pesto sauces,
mustards
, rubs, sauces and more.)
Totally unrelated to the olive oil aspect, they sell these awesome
candle holders
that are made from the wine barrel. How is that for recycling?
We honestly all went a little crazy. Racking up credit card bills in the $100s on olive oil. But you only go to N
apa
every so often, right? I have to say their packaging is fabulous. And I imagine if you called they could work out a great gift basket deal for you. (The gift baskets in the store are grapevine baskets with fresh winter greens tucked in.)
I would highly recommend the
garlic olive oil
.
Or the 19 year old
balsamic vine
gar. Best balsamic you will ever taste in your life. Well, unless you have some that is aged longer...then that one might taste better.
They also offer a
$60 pursuit of real food membership
. They send you items quarterly and you get all kinds of discounts. That is $60 total for one year and surprises on your doorstep once a quarter!
Another great place for gift baskets is, of course, Williams
Sonoma
. My sister and I were there today and they had so many great gifts. Unfortunately, the website does not do as good of a job of packaging as the stores do.
Obviously,
Harry and David
came to mind. Have you guys ever had their pears? Seriously to die for. I also am a huge fan of their chocolate covered blueberries. I think you can pick up a box at Target. They are right next to the Bing Cherries.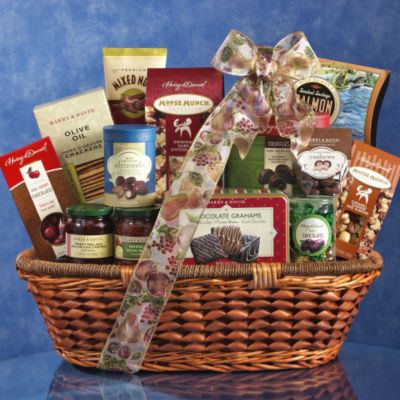 It goes without saying that Garrett's popcorn is the best and totally worth the ridiculous price. Try the Chicago Mix. You will not be disappointed.

Have you guys tried Cheryl and Company cookies? Totally worth the splurge. My favorite are the iced sugar cookies, but I think I have tried most of them and they are all amazing. Must.Try.
Also while in Napa, we visited Dean and Deluca. Love, love, love that place. So much so that I was the freak who was taking pictures in the grocery store. Albeit a gourmet grocery store...


Look how miniature these apples are!


If you don't have a Dean and Deluca near you, they do offer some amazing gift baskets like this Festa Italiana one. The fun thing about Dean and Deluca's site is that you can chose from Ready Made Gift Baskets or Create Your Own.

Let me know if you guys have any other good ideas for gift baskets. I cannot wait to hear some of the fun stuff you guys have received.