Baby it's cold outside
Well, that was an interesting Christmas! 56% of you voted that we would have a white Christmas. Those voters win a prize. I am not sure what it is...perhaps a snowman in your yard.
We had a great Christmas! I am just glad we made it to my mom's before we got all snowed in. We had a nice Italian dinner of shrimp and artichoke linguine and appetizers. There were supposed to be several people over there, but it ended up just being Allison's family and Tommy and I. We missed everyone, but had a really nice evening.
I was a good girl this year and got lots of great gifts. As you guys know, I am a huge fan of Ace of Cakes on the Food Network and Tommy got me a copy of their new book. I am now an expert on all things Charm City Cakes. I think Duff and I would get along great.


Allison had also gotten me the book. She learned I had already gotten it and was sweet enough to take it back and get me this adorable top from The Limited. (You guys will notice a theme here---I heart ruffles.)

I have a Swarovski collection and love adding to it. Tommy got me a new little addition. You guys know how I love owls.
A girl at my work had this jacket below on and I HAD to have it. My mom was able to find it at
Macy's
. Look at the ruffles! I got it in black and she had it in red. Either way, totally cute.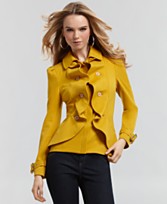 To go with my ruffle jacket, my mom also got me this ruffle scarf for Simply Vera Wang at Kohl's. They don't have any online, but may still in stores. I absolutely love it. It was so pretty I wore it down the street last night to go to someone's house. I am sure I looked totally normal in my jeans, t-shirt and lovely ruffled scarf.
I am dying to know what fun gifts you had under your tree! Please let me know!