Fan Club and Celeb Gifts
Today was a big day! I have only had two exciting happenings on my blog. The first was when Linda Fuller, wife of Habitat for Humanity founder Millard Fuller, found my blog and commented on a
post
about a house being built in memory of my dad.
And the second was today. You guys, I am now pretty much the unofficial chair of the
Auntie Anne's
fan club! She found me because of yesterday's blog post. Okay, so maybe
Auntie Anne
didn't find me. But someone on her staff did, which is pretty much the same thing. As a huge fan of Auntie Anne's I have been rewarded for my loyalty (this loyalty is deep, seriously, I walked and walked and walked around the Oakland airport when I went to Napa just to get a pretzel. Now tell me that isn't loyal. There were lots of options. I am just sayin'.) I am now going to be the proud owner of several free pretzels. I bet you all want to be my friend now!
While talking to my nice representative from Auntie Anne's, she mentioned another great gift for other pretzel lovers out there -
a make your own pretzel kit
! And at $12.95 you cannot beat the price. I might have to do this instead of making Christmas cookies this year. Christmas pretzels would be a great new tradition.
So, now for my celeb gifts. Technically, I am not sure these are celeb gifts, but they were in US Weekly, so close enough.
Janie, I immediately thought of you when I saw this gift - A Dog's Life Wine. It is a mix of your two favorite things, wine (granted, it is not Franzia) and pups. And 2 bottles for only $25 - steal.
Isn't this sleeve for your to-go coffee just so clever? Only $5, people. Available at the
Container Store
.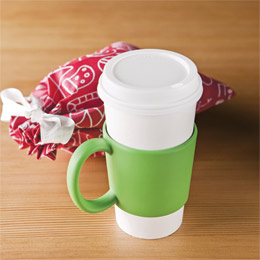 Supposedly Denise Richards' daughters have this crayon apron from
Chasing Fireflies
. Either way, this apron is really cute and so is the online store.
More gift ideas tomorrow.