Real Simple–Faves of their Faves
So yesterday in the airport I was looking for a new magazine to pass the time and I remembered Ashley telling me that Real Simple was her favorite. I hadn't picked it up in awhile, so I did and they had some of the cutest Christmas ideas.  I picked my favorites of their favorites to share with you. I am so clever and resourceful (aka lazy).
But before I get into that, I have to share three of my real life favorites right now.
1- The Michael Buble Holiday Station on Pandora. Love it. I can tell you that they also played my favorite holiday song – Baby, it's cold outside – within three songs of starting it. Let's just hope they never play that terribly depressing Christmas Shoes song.
2- Why do I love LMFAO (the band, not the abbreviation)?  Is it because I have been watching them since they were an integral part of Real World Cancun? Likely.  (Confession: I have seen EVERY season of the Real World since it began.  This is why this is a confession. It is like a deep dark secret.)  Anyway, I love this song. It is likely because it is made for people 10 years younger, but I like to think of myself as very hip still. Clearly, I identify with the younger crowd since I am still watching the Real World. Also, I work out.
3- Each time Tommy and I go on a trip we try to bring back one ornament for our tree.  I bought this one in Chicago at Crate and Barrel. Can you think of a more perfect ornament???  I will confess, they had many different "looks" to their babushkas and I bought this one because it looked most like me.  It also the same reason I wanted a Samantha American Girl Doll since I was 14.  But this was much cheaper.
Okay, so for the Real Simple selections. They had lots of cute ideas. These were just my favorites.
I love mugs. Love them. Cannot fit one more mug in my cabinets, but thought this collection from Korin was super clever. Who wouldn't want a squirrel tail mug?
Jackie, these next two items reminded me of things you might love. One is a makeup studio from Sephora and is only $50. It reminds me of those art sets from when you were a kid that I ALWAYS wanted and finally got from my sister about 4 years ago. 
A few years ago my friend Megan gave me a Bobbi Brown makeup set for Christmas and I am still using it today. I am sure it was supposed to expire about a year ago, but I use it every day and still have tons left and I love it.  This year Bobbi Brown has a holiday night out set for only $25.
In the magazine they had a really cute display of these scarf on a spool sets from Chloe In Style. I love packaging, and thought this was really creative and cute.
And the Best Idea Ever award goes to JCPenney for this cardboard box house. What kid wouldn't love this? And the best part – it is only $20!  It was such a good idea Christine featured it today, too.
Is this not hilarious?  It is available on etsy store Burly Beard. They have them for adults, too!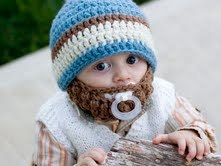 And I will leave you with a stocking stuffer for your indecisive friends/family members – a Magic Eight Ball pen. Get all of your answers with a click of the pen. From Spoon Sisters. (Cute site if you have never visited. Lots of quirky items!)
Enjoy!