Days 11 & 12
What in the world is a piper piping? I guess I have never really thought about one. Is it like a flute? At least I know what a drummer is.
Finding something relating to a piper and piping was slightly challenging. First, I went to amazon and put in Piper and I was lucky to find a book that I enjoyed by Don Piper,
90 Minutes in Heaven
. For those of you who have not read the book, it is a true story written by a minister who was pronounced dead at the scene of a car accident and came back to life 90 minutes later. The book describes his experience in heaven and the struggles he had through his very long recovery. Read it, you will love it or, at the very least, find it fascinating.
I can't decide if this next one was clever or lazy. But, I am going to go with clever since I really didn't think of this until just now. How about a cd with the 12 Days of Christmas? Honestly, that was pretty hard to find also. I guess most people don't put the song on their Christmas CD. But, it was fun to listen to all of the music!
Okay, moving on to 12 Drummers Drumming. This one was tough too. Unless you are a drum lover there isn't too much in this category. But, I did come up with a couple of ideas.
One, is a bottle of wine. They ferment in "drums." Or, close enough...
Popcorn party drums
I know these are kind of lame...but I struggled! Drums were hard!
And, I came across these today incorporating all 12 Days of Christmas:
Isn't
this quote
the truth? Ha!
Emily B. sent me this collection of ornaments from Crate & Barrel. They are so cute! You may need to click on the link...I had issues trying to copy the pic.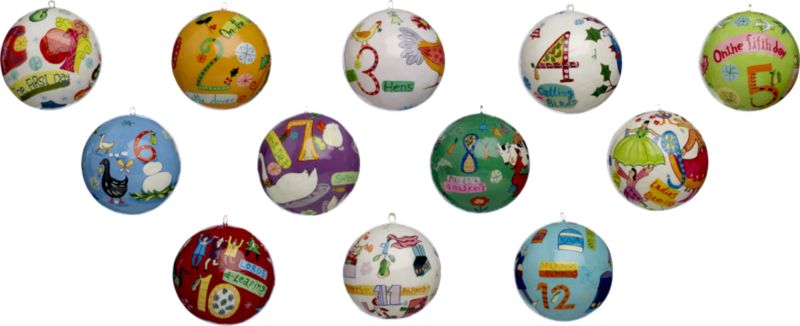 That was fun! Let me know if you guys have any other hard to buy for gifts. Well, at least for girls. I still have NO idea what to get my husband. He is the hardest to buy for!