Pinterest Picks
I pin a lot of recipes on Pinterest and if it weren't for that, heaven knows I wouldn't be cooking.
Here are my two recent favorites that I have cooked:
1- Enchilada Lasagna from Mogwai Soup
I was shocked that this was so good. We did add some chili powder to the recipe, which I think was a great addition. Also, if you happened to be out of tortillas, chips would give this a nice crunch.
There was a ton leftover and I was able to freeze some for another meal. I would definitely add this to my rotation.
2- Chicken Cordon Bleu Casserole from Organize and Decorate Everything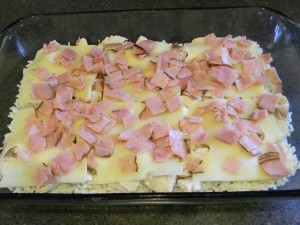 I have actually made this recipe twice. It is pretty simple to throw together and tastes great. I didn't have any saltine crackers for the topping, so I added some tortilla chips and it added the saltiness and crunch that it needs.
Also, as a note, in both of these recipes, instead of making the chicken as shown in the recipes, to save time I just bought and cut up a rotisserie chicken. Totally worth the lack of effort :).