Weekly Faves
I think my last post was my Weekly Faves.  Clearly my life is pretty unexciting. I have got NOTHING to tell you all about. LAME.
So instead I will share everyone else's fun stuff.
First, you all must check out my friend Ashley from Living and Loving Our Life in the Midwest's adorable Dr. Seuss themed party she threw her son Cooper. I even got an inspiration shout out ;). See, someone does read this!
Over on Sheek Shindigs this week she had really, really cute fruit ideas for this summer.  I loved this "fruit kebab" for a shower. Photo via Baker's Royale.
Another friend of mine, Anne, from A. Party Style posted this really adorable idea from Martha Stewart Living of flavor flags for the 4th. I just love this!  And so easy.  The only hard part would be finding the white candy sticks. However, you could probably just use peppermint sticks and get the red and white all in one.
Aren't these cookies by Bake and 350 ADORABLE????  And so realistic. This is probably the only way I would have friend chicken.  Funny, huh? I will fill my stomach with cookies, but friend chicken – notsomuch.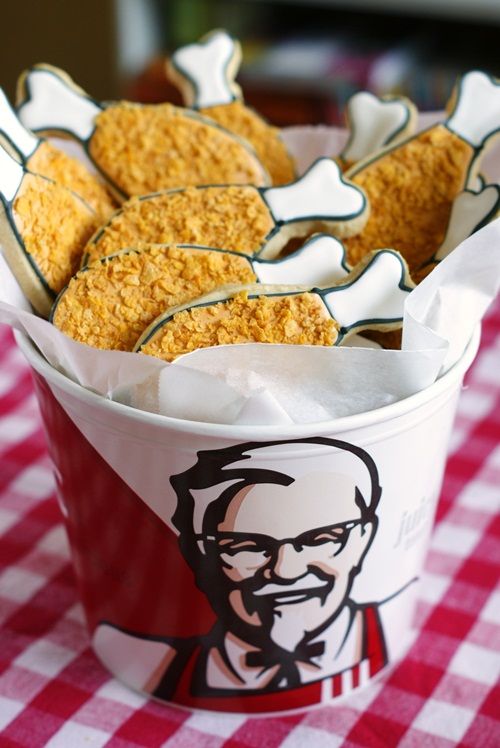 I love double entendres. Every time I hear one, I always think to myself – why didn't I think of that? So when I saw these book plates (get it?????) over on MegMac Designs, I was in love. And I love to read. Perfect.
I fell in love with these cookies featured on Living Locurto.  They look so complicated, but when you look closer, you can see how simple they are.  Just two cookies put together, ice them, add yogurt covered raisin as the "pearl."  You can get full directions on Family Fun. And when you do them, you must send me a picture!
Celebrations at Home featured a really cute picnic themed shower and I thought these favor boxes were really cute. 
I have had so many friends who have gone on trips and have great anxiety about how their kids will behave.  Birthday Girl had this great idea and free printables on her blog this week. How could you get upset with a cranky baby if you get these preflight? :)
Maybe this week will bring something blog worthy?  In a good way!