Weekly Faves
I apparently had parties on the brain this week.  All of these would be perfect for your summer soiree. 
I saw this idea on the Attention 2 Detail blog and I thought it was a really clever way to make your chair backs pop.  You can get the full instructions at Bride's Café.  My only thought would be to use artificial apples rather than real ones so that you could use this again and again and, also, if you didn't have a super sturdy chair, I would think it would be so top heavy that it would fall over.I have gotten some realistic looking ones in the past at Garden Ridge, Hobby Lobby and Walmart.
So apparently Ralph Lauren's daughter, Dylan, who owns Dylan's Candy Bar is getting married.  Well, on Martha Stewart's Weddings this week she featured photos from the bridal shower. You guys will die and you must go look.  Wouldn't this be the most fun shower ever????
Also, if you don't want to click through all of the pictures, you can see the highlights on A Blissful Nest.
I am not sure if I ever mentioned this, but I LOVE honey.  I was especially intrigued when I saw this Bee-Mosa on Second City Soiree.  Also, it takes so little effort – just honeycomb (not sure where you get that, though, farmer's market?) and champagne.  Now I am on a quest for honeycomb!
Okay, so I lied. Not all of my posts have to do with parties this week.  As an aunt to two adorable bow-wearing nieces, I loved this post by Mish Mash Mom who gives you instructions on how to make these adorable bows yourself. I see a bow making party in my future.
On eighteen25 this week she posted a tutorial for these ties.  I thought this would be really cute for a little man party and shower. 
I LOVED this idea and there are so many other ways you could make this work other than Father's Day. I just LOVED these cake balls from Everything Sweet.  Aren't they clever?
This week Paiges of Style did a guest post over on Birthday Girl.  She posted the most clever envelope idea I have ever seen.  Basically, the inside of the envelope is a photo.  You can read the full tutorial by clicking here.
Wow, this post is getting long.  But there were so many cute ideas this week!  This was a photo shoot styled by Chris at Celebrations at Home. All of the pictures are amazing and inspiring. I just love the colors and would totally want to go to this party.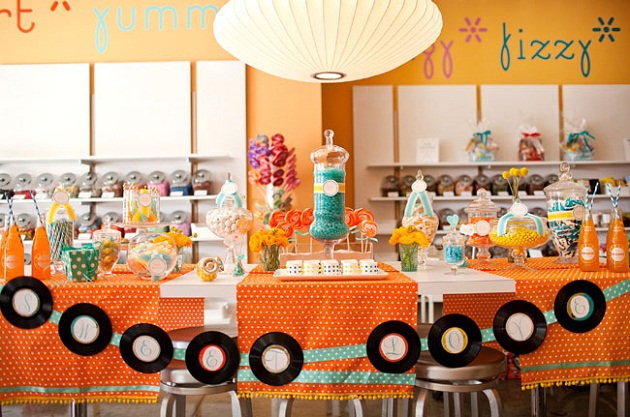 We all love the Hostess with the Mostess and her parties are all amazing.  This one caught my eye because it was really unique and adorable – a British invasion theme.  Too bad there isn't another Royal Wedding on the horizon. Click here to see the rest of the photos.
And, believe it or not, that's all I've got!