So Crafty
My mom is the crafting queen.  She finds something she wants to do and makes it happen. No surprise to anyone who knows my mom.  :) She is very creative and efficient.
A few weeks ago when we were shopping at Z Gallerie she came across these pumpkins for $10 – $18 a piece.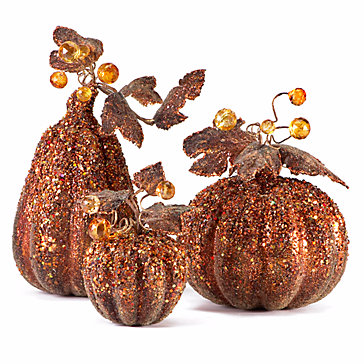 My mom wanted to see if we could do them ourselves for less, and today we did.
Please note – this project was a little messy. Okay, a lot messy. You will definitely want to do this outside.
Here are your supplies:
and
The pumpkins are from Walmart and the other items all came from Michael's.  We actually didn't end up using the glass pebbles, so just disregard those.  The glitter is kind of hard to see, but it is called tinsel glitter.
All you do is spray your pumpkin with the tacky spray, then dump tinsel glitter on it:
Cover the entire pumpkin with the glitter and tacky spray, then add a branch from the stem.  And voila:
Here is my pumpkin.  Mine was a little larger.
My mom is going to use these at every place setting for Thanksgiving.  They are going to look great!
I have to say it is a pretty darn good knock-off!