Emmy's Playroom (on a Budget)
I have been promising pics of Emmy's playroom and it isn't completely done, but my friend Alisha mentioned that she was looking forward to seeing it, so I thought I would post a few pics. I by no means staged these, as we are going for a "lived in" look over here. Ha!
The way our house is laid out, we had an office off the front of the house attached to the living room. We honestly never used it, so I we decided to turn it into a playroom for Emmy. I thought it would be nice to have something downstairs that she could keep her toys in so that the living room toy creep would be at a minimum. (Have I mentioned I HATE clutter…you would never know that from my work desk, though. Funny how that works.)
When we embarked on this project I wanted to have a custom unit made for the playroom and Tommy talked me down. My next "want" was a Pottery Barn system. They had the look I was going for, but Tommy convinced me that we should go with something less expensive since it is, in fact, for kids and they destroy everything. So without further ado, here is a little peak. While it isn't fancy, I do love being in there and she enjoys playing!
The view from my living room and my little helper.
I am looking for baskets to fill the space in the center of the unit, but those puppies are hard to come by.
A TV may eventually go in the center spot, but I decided that learning the alphabet works for now.
I would love to get artwork to go on either side of the window. Not sure if it will be too much. Thoughts? Here is what I am in LOVE with from Rita Orloff on Etsy. I am like obsessed. Do you think it goes?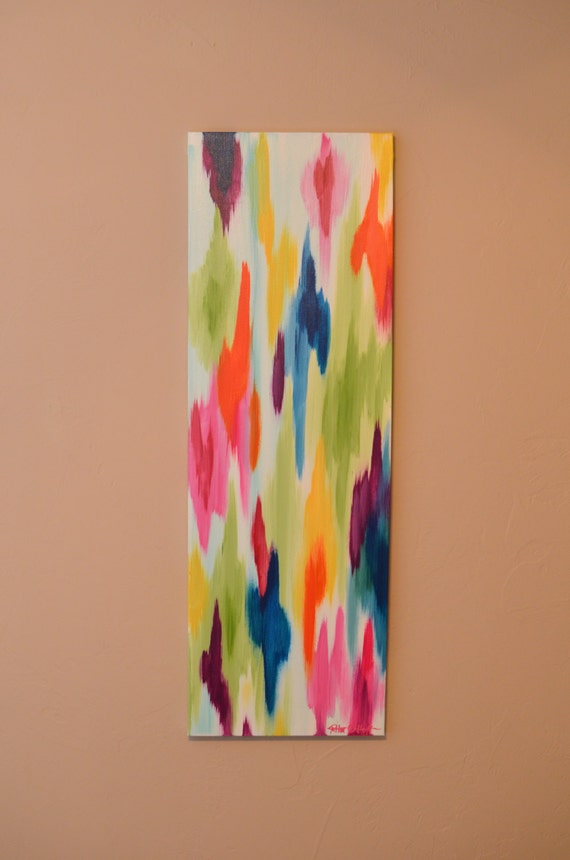 For those of you who are looking to do a playroom on a budget, here is where everything came from:
Bookshelves – Target Oh, I also didn't install the back and left them open so you could see the wall. The back was like a fake wood panel and I felt it would make it look cheaper than it was. (Which was super cheap, as you can see!)
White Center Entertainment Console – Target Threshold brand. They don't have it online, but they do carry it in stores. I bought the console in the store and had the bookshelves sent to me online.
Dark Bench beneath the windows and baskets – Ikea
Rug – Overstock (I purchased it for $106)
Chalkboard Table and Chairs –  Bought from a friend at an art show
Tan Baskets in white unit – Pottery Barn. These were a bit of a "splurge," but I have a PB card and I have only bought them when they send me a $25 off a purchase of $50. I think they retail for about $26 each, so it ends up being only about $13 per basket. They are really sturdy and durable. Much more so than the ones you see at Target.
Memo Board above play kitchen – Tutorial here
Hope that helps! Let me know what you guys think about the artwork!